Sig Sauer P365/P365xl/P365x
Prior to the P365 being released the most capacity you would get in a gun this size was about 6 or 7 rounds. When Sig designed this gun, they created the magazine first and built the gun around it. This firearm is extremely small and comes with two 10 round magazines, one flush fit magazine and one with a pinky extension. Optional 12 and 15 round extended magazines are available for the p365 as well. Since this firearm being released Sig has also come out with a Sig p365xl which is my personal carry gun as well as a p365x which are also great guns.
Springfield Hellcat/Hellcat Pro
After the release of the Sig p365 as I mentioned earlier, other companies had to compete. Prior to the release of this firearm, Springfield had a XDS which was a single stack gun chambered in 9mm that came with 7 round magazines. Now Springfield has the Hellcat which comes with a 11 round magazine with a pinky extension and a 13 round extended magazine. They also make an optic ready version which is great if you want to mount a red dot on the slide. Springfield has also just released a Hellcat Pro which is a little bit longer in the grip and comes with a 15 round flush magazine and a little bit longer in the slide which reduces the recoil slightly and increases your sight radius.
Smith & Wesson Shield Plus
Like I said above, after Sig released the p365 other companies had to compete. Smith and Wesson already had the Shield which came with 7 round magazines if I'm not mistaken. Now they've released a slightly thicker model with 10 round magazines. They have also drastically improved the trigger on the Shield Pluss. I hated the trigger on the original shield but I have to say the trigger on the Shield Plus is 110% better.
Glock 43x/48
Like I said above, after Sig released the p365 other companies had to compete. Prior to the g43x, Glock had a g43 which I personally used to own. The only problem was that it only had 6 round magazines, however you could purchase the Pierce pinky extensions which gave you an additional round increasing your capacity to 7 or you could purchase other aftermarket magazine extensions. Now the g43x comes with 10 round flush magazines and has front slide serrations which the original g43 was lacking. There is also a company called Shield Arms that just released flush fit 15 round magazines for the g43x, they made the magazines out of thin metal instead of polymer to be able to increase the capacity. Glock also just released a g48 which is basically the same firearm with a little bit longer slide, which helps reduce recoil. I personally think they could have made the grip a little smaller and still got 10 rounds in the magazine, the grip is significantly larger than the other guns on this list which is the hardest part of the firearm to conceal. However, Glock is known for reliability and if you purchase this firearm you will have bought yourself an extremely reliable gun.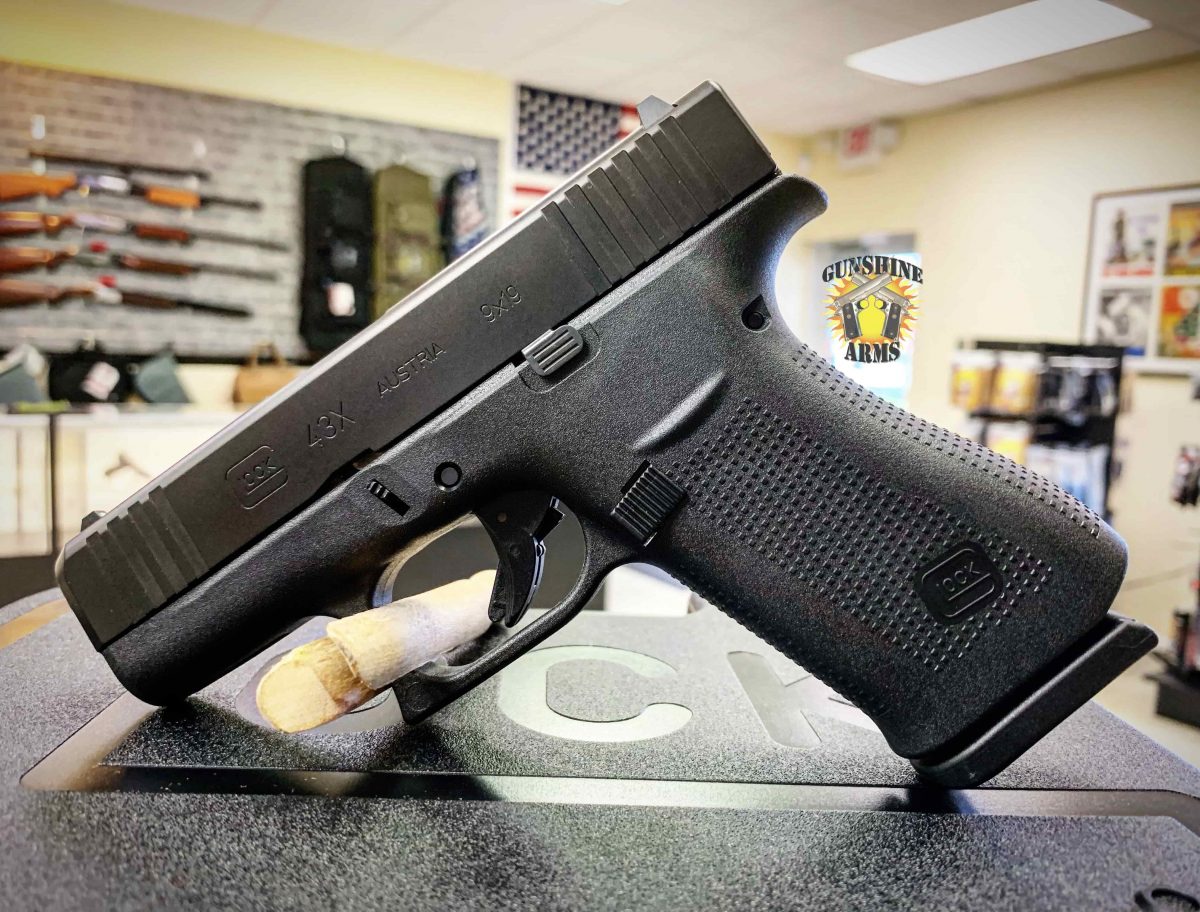 Smith & Wesson Shield EZ
The Smith & Wesson Shield EZ is a lot different than the other guns on this list and one that I recommend to new shooters often. They call it the EZ because everything on it is EASY…. The slide is super easy to rack, and the magazine has a little cheater spring on it so that you can pull down and drop the rounds right in to make it super easy to load. I believe this gun was designed with people with arthritis and weak grip strength in mind. The firearm was modeled after the Smith & Wesson Shield but is a little bigger and originally chambered in .380 but is now made in 9mm as well. It has a backstrap safety and can be bought with and without a manual thumb safety as well. My mother has one and she loves it, they are super easy to rack, super easy to load and have very little recoil. They come with flush fit 8 round magazines in both the .380 and 9mm variations.